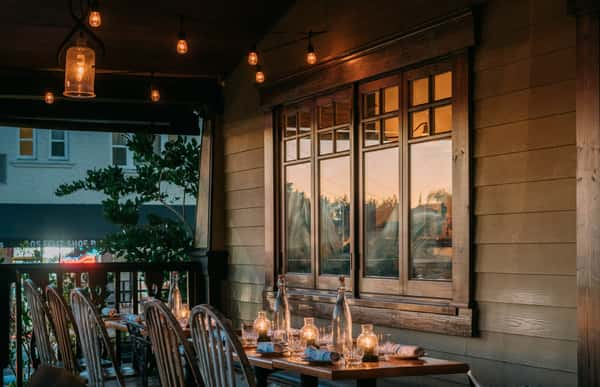 THE GUEST HOUSE IS A NEIGHBORHOOD BAR SPECIALIZING IN HAND CRAFTED COCKTAILS, DRAFT BEER, WINE AND SHAREABLE PLATES.
The Guest House, is the newest evolution of the beloved Home Restaurants that have been feeding east siders in Los Feliz and Silverlake for over 20 years. The Guest House—which feels European by way of old-Hollywood glam house, with its comfy porch and side patio—is the perfect setting to meet with friends or for a date. It offers a full bar of craft cocktails, beer, and wine with modern American shareable plates.

The Craftsman-style house was converted into a full restaurant and bar but kept much of its original charm. The new design features high-arched ceilings with exposed wood beams, Italian floor tiles, tufted leather banquets, a full working fireplace, and a cozy covered patio and front porch with wooden table tops and stenciled tile floors. A private space in the back with dark wood fixtures and designer wall paper gives the place an elegant feel throughout.
Our craft-cocktail program uses locally sourced (California-derived) and hyper locally sourced (Los Angeles–derived) ingredients.